Have you ever engaged in a conversation where – for all intents and purposes – it began as a healthy dialogue about one topic and deteriorated into a heated debate about another?
With good intentions, have you entered a discussion that spiraled into a personal attack and you 'have no idea how it got there?'
I think back on many conversations in which I was engaged that ended in conflict. During some I handled myself with godly wisdom while during others, godly wisdom seemed to evaporate into thin air. No matter how intent I was to bring an amicable resolution, every time I opened my mouth it appeared I just 'fueled the fire.'
And, it was my fault! The words I used, the tone in my voice, and/or the posture I took worsened the situation. What I said may have been absolutely TRUE but . . . I have discovered you can be right, and then you can be 'damn right.'
Then there are conversations in which you are the direct target. It has been predetermined (no matter how a discussion begins) someone who has an offense against you takes the opportunity for a personal attack. The topic may have nothing to do with what is being discussed but it will turn vicious – their ultimate intent is to 'crucify' you. If they could take your job, they would . . . they know how to do it better. If they could fire you, they'd do it in a heartbeat. If murder were legal, it would be an option.
I have both been a victim and an active participant, even the unintentional instigator. I'm sure you have, too.
If we, as followers of Jesus Christ, cannot have conversations that are safe, healthy, and constructive . . . with loved ones, family, and friends (even those with whom we have conflict) . . . how can we fully accomplish the Mission of God?
So . . . what went wrong?
Where did we 'loose it?'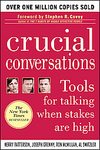 No matter how educated you are or what a great communicator you think you are, Crucial Conversations is one of those MUST READS. Here is what two notable individuals say about this book:
Dr. Lloyd J. Ogilvie, chaplain for the United States Senate wrote . . . "Relationships are the priority of live, and conversations are a crucial element in profound caring of relationships. This book helps us to think about what we really want to say. If you want to succeed in both talking and listening, read this book."
John Gill, VP of Human Resources, Rolls Royce USA, says . . . "The book prescribes, with structure and wit, improve on the most fundamental element of organizational learning and growth – honest, unencumbered dialogue between individuals."
The authors begin by defining crucial conversations then launch immediately into explaining how to master these conversations by teaching the power of dialogue. The present seven processes people need to consider when engaged in crucial conversations . . . learn how to:
stay focused on what you really want,
notice when safety is at risk,
make it safe to talk about almost anything,
stay in dialogue when you're angry, scared, or hurt,
speak persuasively, not abrasively,
listen when others blow up or clam up, and
turn crucial conversations into action and results.
They conclude by offering tools for preparing and learning, advice for tough cases, and provide tools for turning ideas into habits.
It is a quick, easy read . . . I know you'll be reading it a few times, writing lots of notes, and working – like me – on improving your crucial conversation skills.
No part of these articles may be reproduced in any form without permission from the author.