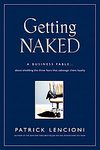 What a title for a business/leadership book. But it hooked me . . . and it was a great read.
Patrick Lencioni, who authors a number of similarly formatted business/leadership books, does a masterful job articulating simple, yet profound, principles.
Lencioni spends most of the book telling an engaging story  (a business fable) that begins to unfold practical philosophies beneficial in business relationships. Getting Naked is no exception. He presents three fears that sabotage client loyalty.
Following is a brief summary.
"At its core, naked service boils down to the ability of a service provider to be vulnerable – to embrace uncommon levels of humility, selflessness, and transparency for the good of a client . . . as obvious as (this) may sound, it is more difficult than it seems, because humility and selflessness and transparency often entail suffering."
Humility  . . .  selflessness  . . .  transparency. Not our favorite trio. It requires an expression that is contrary to ou need to survive, to make ourselves look good in the eyes of others. Yet, these attributes are extremely powerful because those with whom we are engaging realize we are more intent on ensuring their success than our own comfort.
Lencioni addresses three fears we must overcome:
the fear of losing business (or losing a position/job)

what people want more than anything is to know we are more interested in helping them succeed than we are in maintaining a revenue source.
the fear of being embarrassed

this is rooted in pride . . . not being willing to readily admit we don't know it all.
the fear of feeling inferior

this is rooted in ego . . . wanting to preserve our sense of importance and social standing relative to others.
Getting naked . . . to be vulnerable with those with whom we live and work in order to build stronger relationships, demonstrate our trust in them, and inspire them to improve by being vulnerable themselves!
No part of these articles may be reproduced in any form without permission from the author.